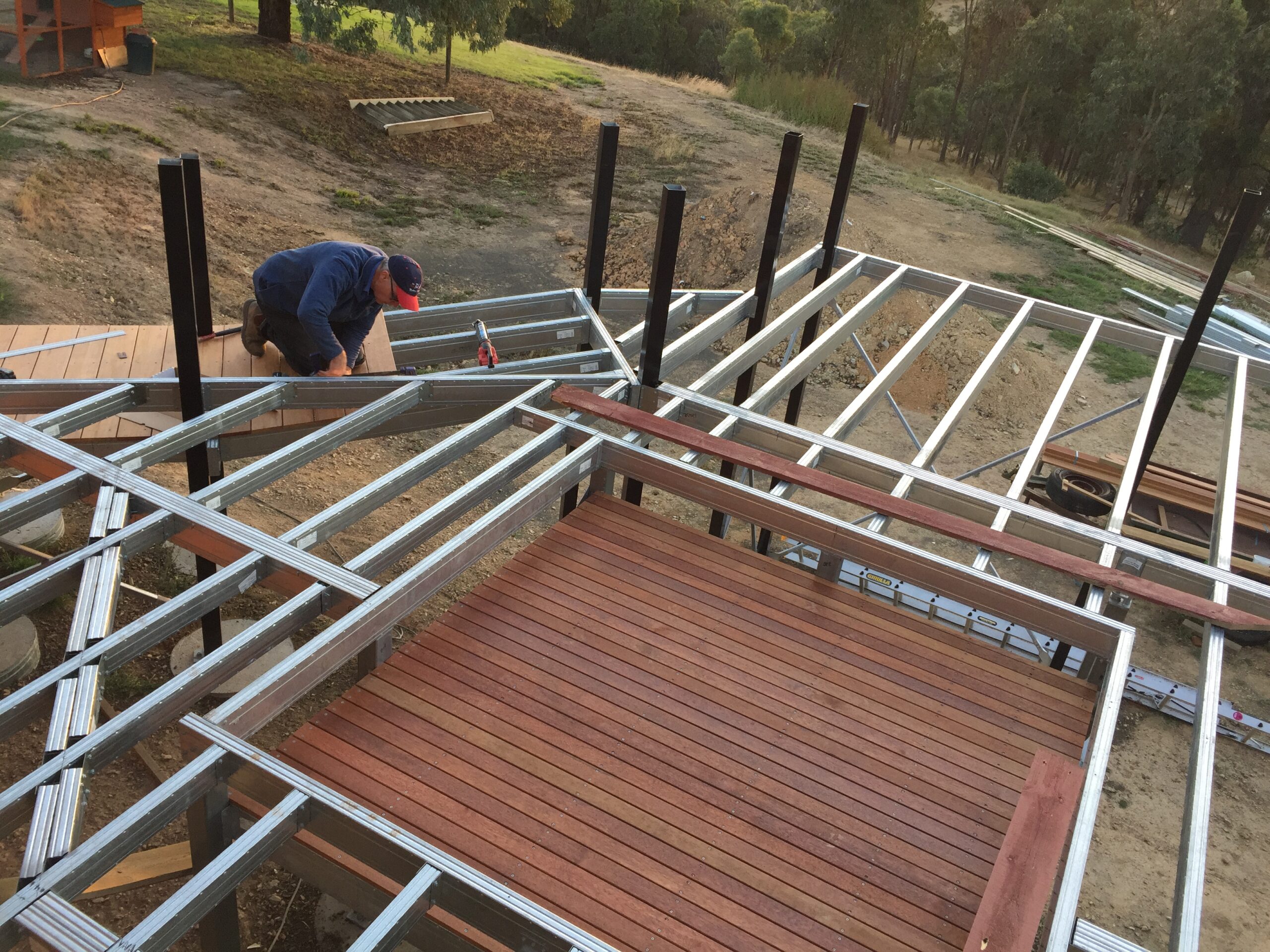 October 04, 2019
James Clark, a client in regional NSW, sought to create a deck with a difference for his large two-storey brick home. He envisioned a large deck joined to his existing veranda that would be used as  n outdoor living and entertainment area. He was specifically seeking something eye-catching that offered clean lines and would reimagine what a domestic deck could be.
When Clark's chosen draftsman, who completed the original plan and assisted with planning and building permits, didn't buy into his vision, Clark took matters into his own hands. Drawing on his background in manufacturing and engineering, Clark redesigned the draftsman's plans himself to more accurately reflect the high impact and highly visually appealing deck he envisioned.
Clark required his deck components and frame to be built out of steel due to his house being in an area prone to bushfires. Through research online and visits to building and home renovation exhibitions, Clark was introduced to Spantec Systems, a Mittagong-based Australian building supplies innovator with more than 25 years' experience. Spantec pioneered the design and use of light structural steel beams and steel flooring systems for home improvements in Australia and created the concept of using adjustable steel piers under sub-floors.
Clark was enamoured with Spantec's one stop shop service model, which includes design, construction drawings, engineering and ongoing technical support throughout the build, which Clark  would complete himself.
Custom Deck
Having also sought quotes from one of Australia's largest providers of steel products, Clark chose Spantec and its Custom Deck product for his cutting edge  new deck due to both his interest in  spantec's modular design system and the support he was shown from Spantec's sales team.
The Spantec Custom Deck product would enable Clark to bring to life the deck of his dreams. The strength of the deck would also support a spa that would sit on top of the structure.
"We wanted to incorporate a spa and the weight made everyone nervous," Clark recalls. "We didn't want a 'climb over the side' full height spa and didn't want something at ground level that would  be hard to get in and out of. We came up with a plan to partially lower the spa into the deck, so its height above the deck would be 600mm, which is the perfect height to sit on the side then swing in."
Expanding the scope of works to replace ageing wood beams
During construction, Clark discovered that the existing veranda bearers were rotten. After consulting the Spantec technical team, he expanded the scope of the project to include stripping back the original decking boards and replacing the wood beams with Spantec steel bearers and joists.
With further input from the Spantec technical team, Clark also extended the use of the Spantec beams to build the landing for the stairs and the second landing and steps down from the veranda to the deck.
"I was extremely satisfied with the end result," Clark said. "I completed most of the work myself; I was very pleased with the detailed plans. My building inspector even commented that he thought it was the best deck he had ever seen, which gave me peace of mind that I had chosen the right product for my deck. I found the Spantec technical team very helpful in assisting in the development of the design."
If you want a deck that offers a long-life span with minimal maintenance, call us on (02) 4860 1000 or email sales@spantec.com.au for more information and a quote.