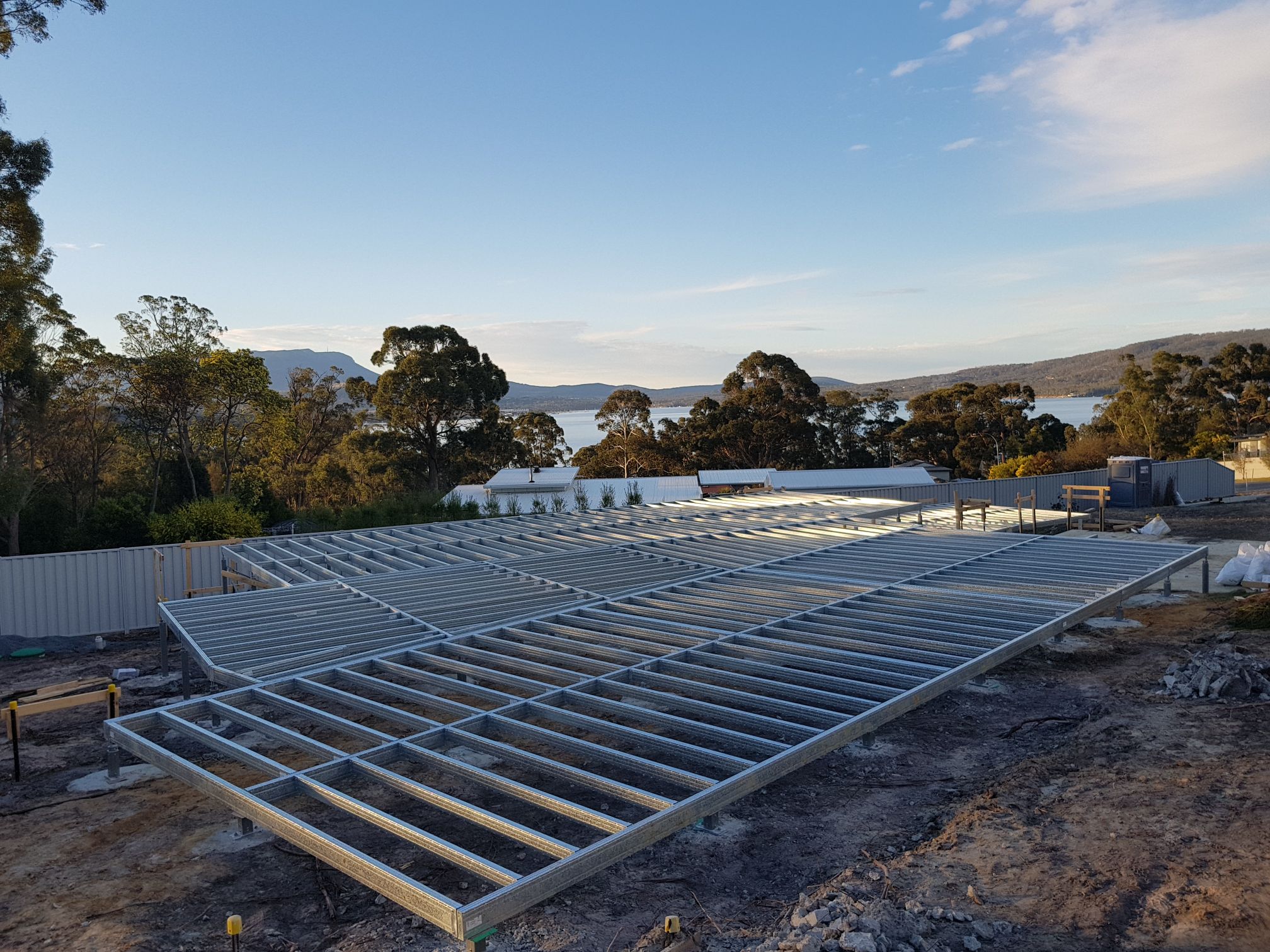 October 15, 2019
David, a client in Tasmania, was in the early planning stages of a new home build project and searching for cutting edge building solutions for the job. Visiting the Melbourne Home Show, he was introduced to Spantec Systems.
Speaking with the Spantec team, David learnt more about the NSW-based company and how for the last 25 years they have pioneered the use of modern, steel-based systems for a variety of  building and construction projects. The Spantec prefabricated steel flooring and piering system sounded like the perfect solution for David's project, which was on a sloping block and in an area that received above average annual rainfall.
"I didn't think there was that much fall," David says of his block, "but there is nearly two metres of fall across the site. So I thought the Spantec system would be ideal to use.
"I've built as an owner-builder previously and knew the perils of building. Previously I had a combination of timber, and when the rain hit it there were delays with contractors. I was there every morning sweeping the water off the thing and I swore to myself I'd never use timber again.
"I wanted something stable and straight that could handle variable weather; I was very glad that I didn't have to worry about the galvanized steel being exposed to the weather. I gave Spantec my plans and they came up with a design for the sub-floor system."
David notes that the initial quote Spantec gave him was very close to what his flooring system ended up costing in the final quote.
Spantec for a simpler build
The three-bedroom house that David designed featured two separate buildings that in total covered 250m2, with the main house consisting of 200m2 of floor space and a detached guest area of 50m2. The main building, deck and courtyard were to be on the higher level of the block, with the guest area located on the lower level.
"The Spantec system enables you to have different levels quite easily and not have to pour extra concrete," notes David. "And the base is already contained, so we didn't have to come up with a unique design for that. That's all part of the system. The adjustable pier head made achieving a perfect level very easy. That's the only thing the builder had to cut – the steel piers. Everything
else was already done."
From its warehouse in Mittagong, south west of Sydney, Spantec Systems shipped all the pieces of David's steel floor system to the site outside of Hobart. "When it rolled up on the truck I thought, 'wow, is that it?!'," David recalls. "Everything was labelled clearly and everything was accounted for and accurate. Nothing was missing."
David noted that the building contractor he was using "hadn't seen anything like it before" and commented favourably about the system and how all the pieces were accurate and clearly labelled.
"Having never used this type of pre-fabricated system, things moved along nicely once he understood how things went together," David recounts. "It was like a giant kit set – everything was pre-cut and straight and nothing was moving, and once it came together, he didn't have to touch it again. It was a few clicks of a spanner and it was done. That's one of the advantages of the system."
One of the key benefits of the Spantec steel flooring system is its versatility and how it makes levelling off the floor base extremely simple. That's something that both David and his builder witnessed first-hand.
"[The builder] has the laser level and they just sit it on there and click it with a spanner," David explains. "The builders loved it because the process was much, much easier. Traditionally there would be shaving some timber off, packing it here, and moving things around. That all went out the window. Everything was there and there was no cutting to do. It was great."
Working with Spantec
David recommends Spantec to others building a new home, recalling how easy the company was to work with. "They were pretty accommodating, from the quote process through to finalising things to letting me know the schedule for production," he says. "I was kept up to date, from production through to delivery. Everything stuck to the schedule."
Need help with your home building project?
Spantec Systems offers user-friendly durable components, galvanised steel box section bearers and joists and adjustable piers for a simple and quick install. If you want a deck that offers a long-life span with minimal maintenance, call us on (02) 4860 1000 or email sales@spantec.com.au for more information and a quote.